350 A Stepless Welding Machines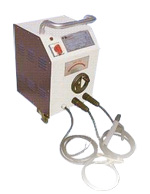 Our 350A AC welding machine is intended for a large variety of heavy duty applications. This model is lighter and quieter than many similar machines. Stepless welding current setting is achieved through an adjustable magnetic shunt. Compact and robust, the AC 350A offers failure free operation for many years.
450 A and 650 A DC Turbored Welding Machines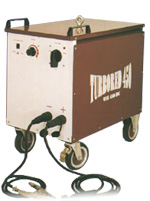 Our largest production oriented DC welding machines offer continious adjustment of the welding current with high precision over the entire range. Remote control of current adjustment is also possible. Foil winding technology is significantly increases the quality and the durability of our transformers while resulting in quieter, lower costing machines having higher dynamic resistance. The body is made of 2 mm DKP steel sheet with two coats of protective underpaint followed by one coat of car paint. Two eyebolts are provided for lifting without body deformation, thanks to a reinforced steel frame. Fan cooling and thermostatic protection are available on all models.