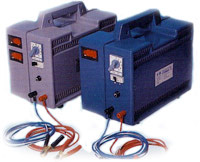 Redresors (Voltage Rectifiers)

W

e produce 3 types of Portable Battery Chargers:

MARINRED: For boats
OTORED: For car mechanics
AKÜRED: For battery salesmen
Through long cooperation with public and private sector enterprises we have acquired the know-how and experience to manufacture high quality voltage rectifiers.
All main telephone exchanges in Turkey carry our rectifier transformers and filter inductors.
Our small, poertable rectifiers are intended for protection and alarm systems as well as car mechanics, battery salesmen, boat owners, and generally wherever battery charging is necessary. These portable battery chargers usually have capacities of 15/30 A at 12/24 V.
Related pages:
Battery Chargers for Boats