Standards
TS EN 60289
TS EN 61558-2-20
Phases
3
Nominal Voltage
200...1000V
Nominal Frequency
50/60 Hz
Tolerance of Inductance
% 5
Windings
Aluminum Foil *
Magnetic Circuit
Low loss transformer steel
Protection Class
IP 00 (Standard) **
Isolation Class
B (120°C) (Standard) *** - Varnish under vacuum according to isolation class
Cooling
Natural (AN) **
Ambient Temparature
-10°C...+40°C
Storing
-20°C...+70°C
Connections
According to customer requirements:
All types of terminals and lugs
*
Aluminum or copper enameled wire or copper foil upon request.
**
Can be changed upon request.
***
Can be produced in H (180°C) class upon request.
| | |
| --- | --- |
| | Dimensions & Weights |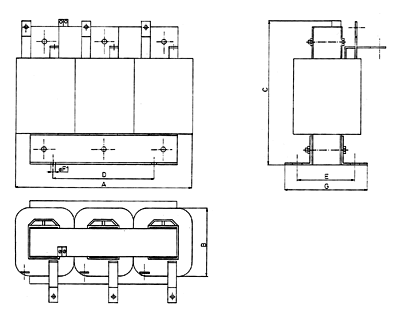 Qc
(kVAR)
L
(mH)
I
(A)
A
(mm)
B
(mm)
C
(mm)
D
(mm)
E
(mm)
F1
(mm)
Weight
(kg)
HFR006005
6,25
4,9
9,6
185
120
170
95
85
7x13,5
7,5
HFR012005
12,5
2,45
19,2
185
120
170
95
85
7x13,5
9
HFR025005
25
1,22
38,4
240
155
220
130
75
8,5x17
14
HFR050005
50
0,61
76,8
300
170
235
170
100
8,5x17
23
HFR100005
100
0,31
153,5
360
185
305
200
105
8,5x17
40
HFR006007
6,25
6,14
9,5
185
100
170
95
65
7x13,5
6,5
HFR012007
12,5
3,07
18,9
185
100
170
95
85
7x13,5
9
HFR025007
25
1,53
37,8
240
155
220
130
75
8,5x17
15
HFR050007
50
0,77
75,7
240
185
210
130
105
8,5x17
23
HFR100007
100
0,38
151,4
300
210
250
170
140
8,5x17
43
HFR006014
6,25
13,2
9,6
185
120
170
95
85
7x13,5
11
HFR012014
12,5
6,6
19,1
240
155
220
130
75
8,5x17
15
HFR025014
25
3,3
38,3
240
185
210
130
105
8,5x17
23
HFR050014
50
1,65
76,5
300
210
250
170
140
8,5x17
41
HFR100014
100
0,82
153,1
360
210
330
200
130
8,5x17
61