Standards
EN 61558-2-15
Power
3,15...10 kVA
Frequency
50...60 Hz
Input Voltage
230 V
Output Voltage
230/115 V
Max. Ambient Temp. Tmax
40 °C
Windings
Aluminum Foil (Standard) *
Magnetic Circuit
0,50 mm transformer steel w/ 1,8 W/kg loss
Protection Circuit
120°C PTC between primary and secondary circuits
Protection Class
IP 00 (Standard) **
Isolation Class
B (120°C) (Standard) *** - Varnish under vacuum according to isolation class
Cooling
Natural **
* ) 'Copper Foil' or 'Enameled Copper Wire' can be used upon request.
** ) Can be changed upon request.
*** ) Can be produced in F (155°C) or H (180°C) classes upon request.
| | |
| --- | --- |
| | Dimensions and Weights |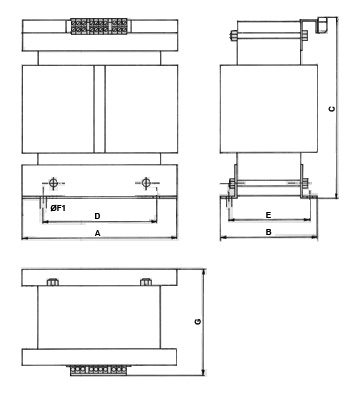 | | | | | | | | | |
| --- | --- | --- | --- | --- | --- | --- | --- | --- |
| | A (mm) | B (mm) | C (mm) | D (mm) | E (mm) | F1 (mm) | G (mm) | Weight (kg) |
| MA 003150 | 265 | 195 | 325 | 200 | 155 | 8,5 x 17 | 220 | 51 |
| MA 004000 | 280 | 195 | 370 | 240 | 155 | 8,5 x 17 | 220 | 57 |
| MA 005000 | 280 | 205 | 370 | 240 | 165 | 8,5 x 17 | 230 | 61 |
| MA 006300 | 280 | 220 | 370 | 240 | 180 | 8,5 x 17 | 245 | 65 |
| MA 008000 | 280 | 235 | 370 | 240 | 195 | 8,5 x 17 | 260 | 74 |
| MA 010000 | 280 | 250 | 375 | 240 | 190 | 8,5 x 17 | 210 | 76 |

| | |
| --- | --- |
| Windings Connection Diagram | Terminals Connection Diagram |
| | |