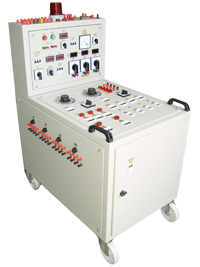 Voltage and Current Test Devices
Our test devices are suitable for companies with various voltage and current needs, specially for panel manufacturers. These test devices are designed according to customer needs and are being used successfully by prestigious companies in our sector.

DC outputs: 24, 48, 110 ve 220 V
AC outputs: 24, 48, 110, 220 ve 380 V (as single and three phase)
0-600 V adjustable DC
0-600 V adjustable AC
Desired voltages can be produced by group buttons on the device.
0-50 A, AC adjustable (in 5 and 10 V steps)
There is a warning lamp showing work in progress situated on top of the device.