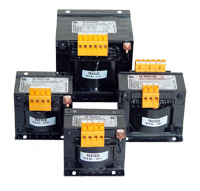 Leader in the market
Eti Elektroteknik, manufacturing dry-type transformers since 1972, became a leader in its market through its innovative designs, following technological advancements closely and applying them, and working with its customers intensively, thus helping to solve their problems and fullfilling their needs.

E

ti possesses technology allowing foils and wires of copper and aluminum to be welded in any combination of two by applying cold pressure. As a result, a copper wire can be welded to an aluminum or copper foil of as thin as 0,01 mm and bobbin's outputs can easily be connected to terminals. The resulting cold pressure weld causes alloying of the atoms of the two welded parts and thus results in good electrical contacts without the undesirable electro chemical reactions and corrosive effects between copper and aluminum.
Besides single and three phased transformers with various powers, output voltages and other specifications up to 1000 kVA; specific transformers like oil and gas burner ignition, static bombardment, neon lamp, redresorand welding machine transformers are integral parts of our production.
Toroidal transformers, high frequency and high voltage transformers, fixed current transformers, multi-phase transformers are also included in our production line. Assembled and wound core in various types, wire windings with round or square cross-sections, copper and aluminum foil windings are used to fullfill various needs.
Latest technology in transformer core winding: Foil Winding
Transformer windings, conventionally made from wires of circular or rectangular cross section, can also be wound using copper or aluminum foil sandwiched between mylar or nomex foils.
By changing inter winding forces from axial to radial, foil winding results in significantly improved dynamic resistance as well as lower winding produced noise. Aluminum foil in properly designed winding has the added advantage of significant weight and cost reduction for the transformer with absolutely no difference in its electrical characteristics.
Related pages:
Isolation Transformers | Medical Isolation Transformers | Special Transformers | Marine Transformers | Ignition Transformers | Neon Transformers